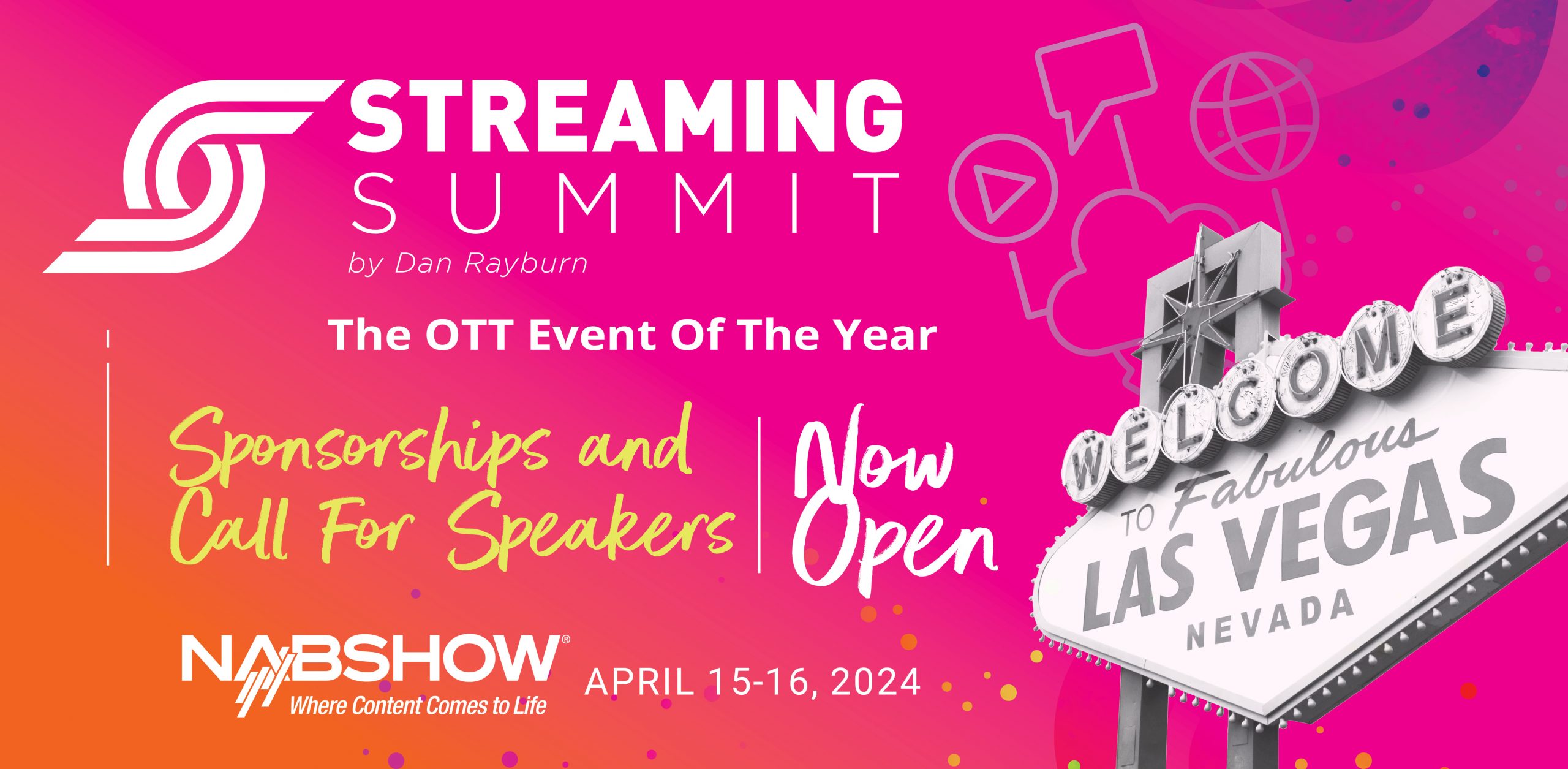 CALL FOR SPEAKERS
SPONSORSHIP DETAILS
REGISTRATION
WITH A NEW DEDICATED TRACK ON AI + 100 SPEAKERS
The two-day Streaming Summit will take place in the West Hall, Monday and Tuesday, April 15-16 as part of the NAB Show in Las Vegas. On day one, the show will be expanded with a new third track dedicated to AI topics and demos.
Hear from some of the largest OTT platforms, sports leagues, broadcasters and content owners on the latest business and technology challenges and opportunities for video monetization across FAST, SVOD and AVOD services. Attendees will learn about the latest trends around sports streaming, bundling and packaging of content, advertising measurement, content discovery, scaling video workflows and delivering a great user-experience at scale.
Previous speakers at the Streaming Summit have included executives from: Netflix, Prime Video, Warner Bros. Discovery, Peacock, Disney, Paramount+, Roku, Fire TV, Sling TV, Hulu, NBCU, SKY, WWE, NFL, NBA, MotorTrend, LaLiga, FOX Sports, DAZN, Fubo, Sinclair, Comcast, Meta, Samsung, LG, Pluto TV, Plex, Tubi, Freevee, ZEE5 and many other streaming platforms and rights holders.
Some of the content that will be covered will include: (partial list only)
Packaging, Distributing and Monetizing Video for Profitability
Real-World Implementations of AI in the Video Stack
Cord Cutting, Linear TV and the New Streaming TV Bundle
Best Practices for Optimizing the Video Workflow for Cost and Quality
OTT Churn, Retention and Engagement Strategies
Defining The User Experience for Live Sports Streaming
FAST, AVOD and SVOD: OTT Business Models for Every Consumer
Challenges and Best Practices for Delivering Video at Scale
Strategies for Discovery, Personalization and Content Recommendation
Video Advertising Measurement: Challenges and Opportunities
The Complex and Fragmented World of the Sports Streaming Business
The Streaming Summit will be a three-track event on day one and two-track event on day two with approximately 100 speakers in total. The format will be fireside chats (2 speakers), technical best practices (1-2 speakers), round-table sessions (4-5 speakers), and case study presentations (1-2 speakers). A new AI focused demo track is also being added.
Previous show videos:
2023 NYC2023 Vegas2022 Vegas2019 Vegas
Contact: Conference Chairman, Dan Rayburn, 917-523-4562 or dan@danrayburn.com